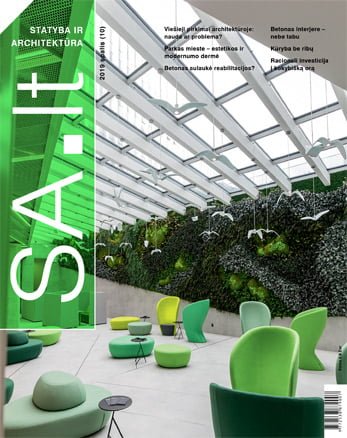 Dear readers,
We would be happy to see that the printed version of the "SA.lt" (Construction and architecture) journal would seem an appropriate platform for foreign companies who seek business partners in our country and who want to offer their products to the small but ambitions Lithuanian constructions market.
Every month a printed version of the "SA.lt" (Construction and architecture) is being issued in Lithuania, this journal covers all relevant topics in areas of: construction, engineering, architecture, urban development, real-estate infrastructure, energy, environmental safety, environmental care, protecting cultural heritage, renovation.
We work closely with more than 30 active associations in Lithuania and all municipalities of the state, we also work closely with our Economy, Energy, Transport and communications, Environment, Culture and other Ministries and their dependent companies, as well as with the Vilniaus Gedimino Technical University and Kaunas Technological University.
We are constantly working on publications on the changes of the Lithuanian legislative framework, currently implemented or planned constructions sector projects, as well as European Union funds supported projects. We present the newest construction industry technologies and products, publish information relevant to architects and designers as well as their exceptional pieces of work, we provide information on real estate industry area forecasts and estimates.
One issue is in 4300 copies, audience (reach) is 40200 (according to market research company "Baltijos tyrimai").
Sincerely,
The publishers of "SA.lt" (Construction and architecture)